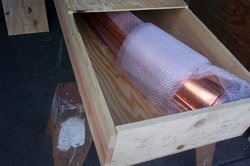 5", 6", 8" half round or K-style. $475.00 for aluminum radius gutter
90" sections only.
Custom shapes and sizes made in California
.050 mill finish aluminum, or 26 gauge Galvalume.
2-3 weeks lead time.
Primer coating available on mill finish aluminum for $30.00/section
1 radius angle per template
UsualLY ships in a fully enclosed wood crate.
* half round or K-style radius gutter sections will be manufactured only from Classic Gutter Systems template kit. Kit will be sent, no charge, upon completion of an estimate. *Each change in angle will require a separate template.
Box, fascia, non-traditional half round and other custom curving produced locally by Albert Barlow and associates.
---