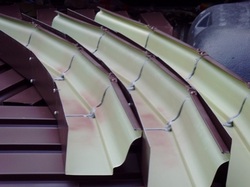 Curved surfaces should have a curved gutter; not a pieced together mess, LIKE SHOWN .

Our radius steel gutters come in bondorized or galvanized in all typical shapes and sizes.
They are shipped formed from heavy gauge material with no weld or solder joints in the 90" sections.
---
5", 6", 8" half round or K-style. $475.00 for aluminum or steel, $575.00 for copper. 8" $75.00 extra per section

90" sections only.
Custom shapes and sizes made in California

32 oz. copper, .050 mill finish aluminum, or 26 gauge Galvalume.
2-3 weeks lead time.
Primer coating available on mill finish aluminum for $30.00/section
1 radius angle per template
* half round or K-style radius gutter sections will be manufactured only from Classic Gutter Systems template kit. Kit will be sent, no charge, upon completion of an estimate. *Each change in angle will require a separate template.
Box, fascia, non-traditional half round and other custom curving produced locally by Albert Barlow and associates.